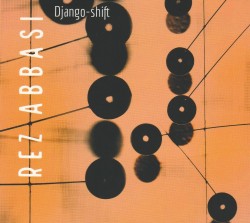 Django-shift
Rez Abbasi
Whirlwind Recordings WR4762 (whirlwindrecordings.com)

In 2019, commissioned by California's Freight and Salvage's Django Festival to present a Django Reinhardt-centric recording project, skilled Pakistan-born and NYC-based guitarist/composer Rez Abbasi was challenged by his desire to present Reinhardt not only as a unique, mesmerizing and beloved guitarist, but also as a composer. He plumbed the depths of Reinhardt's considerable catalogue and came upon seven stunning Reinhardt tunes, as well as two more that were strongly associated with the magical, Roma-Hungarian guitarist. In order to bring his present-tense, genre-blending vision to life, Abbasi called upon the uber-talented Neil Alexander (organ, synthesizers and electronica) and Michael Sarin on drums.
Abassi's rhythmic, 6/8 arrangement of Django's Diminishing feels like a tip of the hat to the great Thelonious Monk – and Abassi freely admits that Monk's odd, juxtapositional style influenced several tracks. Abbasi's organic understanding of complex rhythmic patterns and his exquisite guitar technique defines this standout project, and longtime collaborators Alexander and Sarin have jumped down the proverbial rabbit hole right along with him – never missing a nuance.
Of particular innovation is the invigorating use of organ and synthesizers (including guitar effects), coupled with the contiguous, pulsing drum work by Sarin. Reinhardt's classic Swing 42 is barely recognizable here, but this new perspective on the tune brings an unbridled urgency and the gorgeous ballad, Django's Castle, displays the fine trio at their lyrical best. A favourite of Django's, Anniversary Song (Ivanovici), is arranged here as an odd-metered funky trip and one of the most compelling tracks is certainly Abassi's take on Kurt Weill's melancholy September Song. Abassi's sumptuous tone and emotive interpretation of this classic are beyond compare.