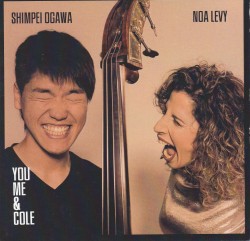 You Me & Cole
Noa Levy; Shimpei Ogawa
Belle Records BEL-002 (noalevylive.com)
Over the years, there have probably been as many Cole Porter jazz renditions as there have been people on the planet. However, against the odds, vocalist Noa Levy and bassist Shimpei Ogawa manage to deliver a truly fresh set of Porter classics on their new release. Firstly, to set the obvious aside, a bass/vocal duo coming out with a songbook album is a rare sight indeed. Trying to play and improvise over standard changes without anything resembling chordal accompaniment is no simple task. This particularly rings true when dealing with contrabass and voice, as those may be the two instruments in the jazz idiom where tuning is of the biggest concern. In spite of the challenge, Ogawa's intonation is spotless to the point of being superhuman and Levy's ability to adapt to these circumstances is nothing short of incredible.
The biggest draw of this album is how beautifully the arranging talents, diverse musical backgrounds and novel ideas of the duo converge. Levy and Ogawa season the proceedings with pinches of everything from klezmer to Bach, and the brightest moments come with their shared fluency in tango. Their chemistry is something to marvel at, as they constantly take unexpected risks and play in seamless dialogue together without so much as a misstep. Renditions are also sprinkled with charming gifts to the listener, including overt Mingus and James Bond references. Refreshingly fun.