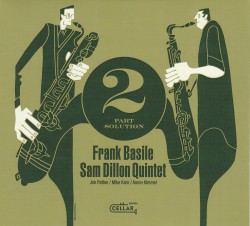 2 Part Solution
Frank Basile/Sam Dillon Quintet
Cellar Music CM110519 (cellarlive.com/collections/all)
In the art world, to make something distinctive one doesn't necessarily have to aim for unprecedented or boundary-pushing new forms; Frank Basile and Sam Dillon have proven that relying on the tried and true can be equally effective. On their latest release, Two Part Solution, this approach takes the form of straight-ahead standard jazz arrangements. Musically speaking, the main selling point here is the tenor/baritone sax interplay that anchors each track. Basile's rich baritone soars over the lavish mix, commanding the ensemble with impeccable phrasing and making the quintet sound almost as full as a big band. Dillon's sheer virtuosity on tenor provides a perfect musical foil.
The original compositions that Dillon and Basile have provided are highlights of the collection, easily measuring up to the well-chosen standards of the set. In particular, Dillon's Monk-esque title track is a thing of beauty, featuring some of the most elegant and intricate harmony on the album. It is thanks to the unusual bottom-heavy tonality courtesy of the dynamic band-leading duo, the production efforts of Cory Weeds and the powerful contributions of drummer Aaron Kimmel that the quintet achieves such a gratifyingly dense sound.
While far from the most left-field jazz recording this year, Two Part Solution breathes refreshing new life into a sound that has too often been presumed dead.