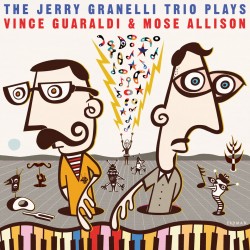 The Jerry Granelli Trio plays Vince Guaraldi & Mose Allison
Jerry Granelli Trio
RareNoiseRecords RNR120 (rarenoiserecords.com)
Drummer Jerry Granelli will turn 80 this year and he's had a long and varied career in music, from San Francisco in the 1960s to Nova Scotia since the 1990s. His stellar contributions there have included a fine Haligonian trio with saxophonist Don Palmer and the late bassist Skip Beckwith. Here Granelli revisits the 1960s when he worked with pianist/composer Vince Guaraldi (including his famous Peanuts soundtracks) and the singer/pianist/songwriter Mose Allison, whose light Southern drawl and distinctive creativity somehow fused roots blues and modern jazz.
Granelli's choice of partners here is inspired, creating a consummate balance of polish, energy and invention. Pianist Jamie Saft, perhaps best known for playing multiple keyboards on John Zorn projects from lounge to noise, plays with both verve and drive; bassist Brad Jones leads as adeptly as he accompanies, playing two improvised duets with Granelli, Mind Prelude 1 and 2. Guaraldi's masterful pop tunes bracket the session, opening with a buoyant Cast Your Fate to the Wind and closing with Christmas Is Here, at once wistful and radiant.
Mose Allison's songs get the bulk of the attention, with the trio's combination of rhythmic force and playful post-modernism standing in for the missing lyrics. The roots-evocative Parchman Farm goes from a modal approach to a weirdly abstract Saft solo interlude in which blues and soul phrases mix freely with pointillist abstractions, while Your Mind Is on Vacation is tightrope-dancing improvisation heading for a melody.