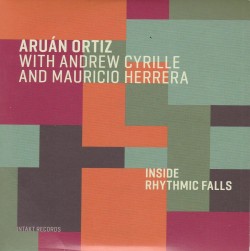 Inside Rhythmic Falls
Aruán Ortiz w/Andrew Cyrille; Mauricio Herrera
Intakt CD 339 (aruan-ortiz.com)
Pianist/composer Aruán Ortiz has spent half his life in Cuba and half in America, his work linking two strong traditions. One is that of the composer/pianist as rhythmic/harmonic explorer and sound sculptor, connecting to Duke Ellington, Thelonious Monk, Herbie Nichols, Cecil Taylor and Andrew Hill. The other is the wellspring of Cuban music, a conduit of African roots into jazz, at least since percussionist Chano Pozo collaborated with Dizzy Gillespie in the 1940s.
Ortiz's solo CD Cub(an)ism explored the dual vision of painter Wilfredo Lam; Inside Rhythmic Falls extends recent trio recordings but does so with a difference: it's a percussion trio, setting the piano in conversation with two very different drummers: Andrew Cyrille, best known perhaps for a decade-long partnership with Cecil Taylor, but whose 60-year career began by recording with Coleman Hawkins and includes explorations of his Haitian roots; and Mauricio Herrera, who sings and plays Cuban vernacular percussion, some reaching back to Africa: changüi bongos, catá and cowbells.
The music is filled with a special mystery and a rare vitality: the former raises queries about methodology; the latter silences them. The cross patterns of Lucero Mundo include speech-like vocals as well as the calm elaboration of complex rhythms, while Marímbula's Mood is suffused with hypnotic ambiguity. Conversation with the Oaks is abstract musing, à la Taylor and Hill, with Cyrille supporting multiple paths; the concluding Para ti Nengón celebrates hybridity, adding three vocalists for a popular Cuban song.