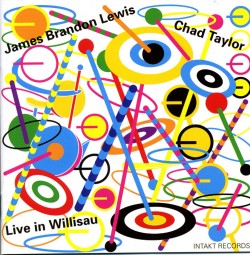 Live in Willisau
James Brandon Lewis; Chad Taylor
Intakt CD 342 (intaktrec.ch)
Heir to unabashed reed/drums experimentation, Americans James Brandon Lewis (tenor saxophone) and Chad Taylor (percussion) equally emphasize links to the jazz tradition on this exemplary Swiss festival set. Lewis, whose gripping ability to invest animated improvisations with multiple variations on extended reed techniques from call-and-response vamps to inflating glossolalia, is substantially encouraged by Taylor's coordinated strategies. The drummer's substantial rhythmic sophistication is further extended with jolts of mbira (thumb piano) plinks when the program warrants it.
In essence that means that the nine-track set gets more gripping as it evolves. Alongside socking drum beats, the saxophonist ratchets through every manner of altissimo cries and subterranean honks, melismatic slurs and mocking phrases as the two redefine a Coltrane line and their own originals. Later Mal Waldon's obscure Watakushi No Sekai, positioned with cymbal crackles and reed-shattering sparkles is interpreted as movingly as is a quietly genial version of Duke Ellington's famous Come Sunday. Finally the two respond to vociferous audience acclaim with an encore of a reconstituted Over the Rainbow, featuring hide-and-seek divulging of the melody among stuttering reed split tones and percussion clip-clops. But the concert's most telling track and an acknowledgment of departed improvisational masters, is a screaming near-R&B version of Willisee featuring drum shuffles and yakkity-sax variations. This same tune was performed on the same stage in 1980 with equal energy and skill by its composer, tenor saxophonist Dewey Redman, in a duo with drummer Ed Blackwell.