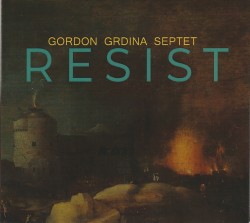 Resist
Gordon Grdina Septet
Irabragast Records 012 (gordongrdinamusic.com)
Vancouver-based guitarist and oud player Gordon Grdina has emerged forcefully over the past decade, whether integrating jazz and Middle Eastern music or blending free jazz and fusion with a series of all-star bands. Resist is his most ambitious recording to date, both as composer and bandleader. The group combines two of Grdina's Vancouver ensembles, his trio with bassist Tommy Babin and drummer Kenton Loewen and the East Van Strings with violinist Jesse Zubot, violist Eyvind Kang and cellist Peggy Lee. There's also a special addition, saxophonist Jon Irabagon, whose intensity and invention often come to the fore.
The title track is the main event, a 23-minute suite that begins with an elegiac string passage that compounds a distinctive musical language from the Second Viennese School and microtonal elements that suggest Middle Eastern modes. Other movements include an oud interlude that dramatizes an intense isolation, while passages of tumult are focused by Irabagon's inventive squall. At the conclusion, rising string patterns express resolute determination.
Two other tracks isolate and develop materials from Resist: Resist the Middle intensifies a central passage, with Irabagon and the classical strings slashing and twisting through one another's phrases; Ever Onward revisits a passage of the strings and oud with a stark, welling drama. There are also two distinct pieces that hold promise for the future: an evocative classical guitar composition, Seeds 11, and the incandescent free jazz of Varscona from Grdina, Babin, Loewen and Irabagon.