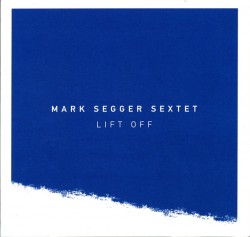 Lift Off
Mark Segger Sextet
18th Note Records 18-2018-3 (marksegger.com)
Sophisticated, supple and swinging sextet sounds, Lift Off shows off the advanced compositional and arranging skills of Edmonton-based drummer Mark Segger, helped immeasurably by contributions from his five GTA associates. With echoes of feathery neo-classicism mixed with technical explorations, Segger's eight tunes become even more animated when filtered through brassy provocation from trombonist Heather Saumer and trumpeter Jim Lewis; the expressive inflections of tenor saxophonist/clarinetist Peter Lutek; keyboardist Tania Gill's note-perfect comping; and the solid grounding of bassist Rob Clutton.
Case in point is For the Bees, with the horns providing the buzzing motif as the theme evolves from a canon with a West Coast Jazz-like feel into more solid sound expressions helped by swirling piano lines and as the climax, pinched notes from Lewis. Meanwhile, despite its title, the concluding Bassline is actually a trombone feature with a mixture of rapid-fire blasts and slinky slurps from Saumer. After the trumpeter's Mariachi inflections and thick piano patterns expand the tune, a jumpy finale confirms its unforced jollity. Meanwhile, One Note is more complex than imagined, since the emphasis is on each player creating a distinctive variation without violating the unfolding limitations of the slow-motion idea.
Limiting his playing to timekeeping and distinctive accents that help propel the peeps, slurs and trills that personalize his creations, there's no question of Segger's mastery of his triple role. The only question is why this authoritative 2016 date took so long to be released.