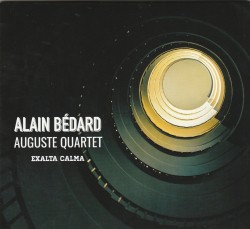 Exalta Calma
Alain Bédard Auguste Quartet
Effendi Records FND158 (effendirecords.com)
Gifted Quebecois jazz bassist, composer and president of the forward-thinking Effendi Records, Alain Bédard, has just released the latest project from his Auguste Quartet, which features the equally gifted Félix Stüssi on piano, Mario Allard on soprano and alto saxophones and the facile Michel Lambert on drums. The majority of the intriguing compositions here have been penned by Bédard, with two fine contributions from Stüssi (the evocative Debout au bout du Bout-du-Bank and Insomnia), as well as one gem from J.P. Viret (NY – Pas encore).
The opener, PouTiti, begins with a subtle Afro-Creole beat that underscores the quirky melody, with delightful and melodic soprano sax contributions from Allard. Bédard establishes the steady pulse with his undulating bass lines, while Lambert develops an intricate second-line-inspired framework, and on La Silva Major ll, Bédard's nimble bass exploration leads the way into an exotic, sonic journey.
On Stüssi's Debout au Bout du Bout-du-Bank, a unison piano/sax intro segues into a groovy, boppish construct, written to delight the ear and stimulate the imagination. A standout is Queen Ketchup, where a concentric swing propels the players into a symbiotic dance that fully illustrates not only the ego-less democracy of this ensemble, but their ability to communicate almost telepathically. An inspired bass solo punctuates the piece brilliantly. The closer, Insomnia, is the perfect postscript to a thoroughly gorgeous, well-recorded, conceived and performed contemporary jazz recording. With an almost futuristic West Coast Jazz feel, this final track again displays the wide skills of all of the players, captured in the act of creation. Vive Montréal! Vive Québec!