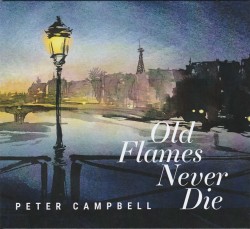 Old Flames Never Die
Peter Campbell
Independent (petercampbellmusic.com)
Respected NYC vocalist, Peter Campbell, has long been a much-loved presence at top cabaret and jazz venues across North America; in 2012 he brought his gorgeous voice and superb musical taste and settled in Toronto. With the release of this new recording, Campbell has gifted us with an inspired smorgasbord of musical delights. Diverse, inter-generational composers and lyricists are represented here, including Dorothy Fields, Cy Coleman, Irving Berlin, Joni Mitchell, Fred Hersch and Oscar Peterson. Campbell also serves as producer/arranger and has assembled a group of fine musicians, with co-arranger Adrean Farrugia on piano, Reg Schwager on acoustic and electric guitars, Ross MacIntyre on bass, Kevin Turcotte on trumpet and flugelhorn and Michael Occhipinti on electric guitar and effects.
The opening track, Stars, is a gem of a tune, written by genius pianist Hersch and the incomparable jazz singer Norma Winstone. Campbell's pitch-pure instrument soars, bobs and weaves through this contemporary, bossa-infused track and Turcotte's muted solo is a thing of rare beauty. Also intriguing is Coleman and Carolyn Leigh's My how the Time Goes By, which reveals a whole different dimension to Campbell, as he dips deep into the blues.
The title track opens with creative, otherworldly sonic affects which then segue into a film noir-ish, 3am ballad of love, loss and longing, expertly rendered. An absolute stand-out is Farrugia's breathtaking arrangement of Both Sides Now. His stunningly inventive chord substitutions and Campbell's skilled vocals have not only created their own musical perspective, but also honoured Mitchell's immortal classic.