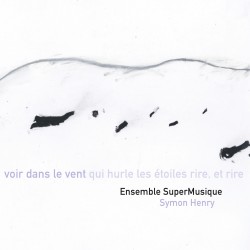 Voir dans le vent…
Symon Henry; Ensemble SuperMusique
Ambiances Magnétiques AM251CD (actuellecd.com)
Symon Henry is a visual artist, poet and composer of graphic scores. His Voir dans le vent qui hurle les étoiles rire, et rire (l'un•e sans l'autre) is a hand-drawn 168-page score. The sample drawings in the CD booklet suggest minimalist landscapes as much as the heavens. There are light and heavy lines, some are gently arcing horizontals, others shoot off at sharp angles. In this live recording, the visuals were projected on screen and each of Ensemble SuperMusique's ten musicians followed the score on individual iPads, with the work's arranger, Danielle Palardy Roger, conducting.
The work is an immediate surprise, opening with a hive of overlapping, eerie glissandi from instruments that take a while to distinguish, strings and vernacular flutes with touches of a ratcheting bird call. As the 50-minute piece proceeds through its six movements, each develops its own density and sonic language, though frequently employing the shifting glissandi as linear representations. Rencontres adds some gritty scraping noises, and Guillaume Dostaler's exploratory piano to the mix, while the extended Les nues continuously adds new and shifting textures.
Voir dans le vent… highlights the improvisatory invention and detailed listening of Ensemble SuperMusique, a group founded in 1998. Henry's work emphasizes a special sectional creativity and interaction from the various woodwinds of Joane Hétu, Jean Derome and Lori Freedman and the strings of Guido Del Fabbro, violin, Rémy Bélanger de Beauport, cello, and Pierre-Yves Martel, viola de gamba and zither.