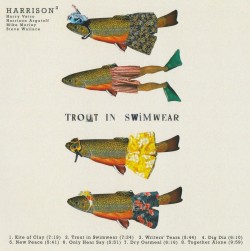 Trout in Swimwear
Harrison²
Independent (harryvetro.com)
Harrison² (that's Harrison squared) abounds in doubles. There are two Harrisons, saxophonist Harrison Argatoff and drummer Harrison Vetro, both newcomers, and they're paired with two veterans, saxophonist Mike Murley and bassist Steve Wallace. Further, both saxophonists are playing tenors. The group began in an encounter between Vetro and Wallace, the latter a change-of-pace substitute for Vetro's drum teacher (Nick Fraser deserves credit here) at the University of Toronto. Argatoff joined in on some standards at the end of the lesson; a performance at Toronto's Rex followed with Murley making it a quartet.
The absence of a chordal instrument opens up the music, encouraging the saxophonists' dialogue and heightening Wallace and Vetro's presence. It puts Wallace's strong lines in the foreground and adds more room for his sculpted solos; Vetro is a very good drummer, precise and assertive with a keen sense of form.
Argatoff and Murley each contribute four compositions, developing them in ways that suggest the classic pairing of Lee Konitz and Warne Marsh; lithe, convivial music with a harmonic focus, but with a harder edge to their sounds. The two play together, whether it's the dovetailing improvised dialogue of Argatoff's title track or the way the younger saxophonist trails Murley on his ballad Writers' Tears, as much an invitation to reflection as the Irish whiskey for which it's named. Though it's set deep in the tradition, the band has a special vitality, some rare chemistry among different generations.