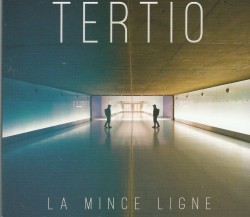 La Mince Ligne
Tertio
MCM (tertioband.com)
This was the first time this writer had come across up-and-coming, jazz-rock fusion group Tertio; and what a great discovery it turned out to be. The Montreal-based collective truly has their own distinctive style that is absolutely refreshing and pleasing to listen to. Drum and bass grooves for days, unique and interesting synthesizer work, fantastic trumpet riffs and catchy guitar melodies, come together to make this record a contemporary jazz, rock and even funk journey that will have any listener wanting to tap their foot or bop along.
More With Less starts off the record with a positively groovy track that showcases their distinct blend of "modern jazz, urban rhythms and the raw energy of rock" which they are known for. New One showcases soaring trumpet melodies courtesy of Andy King and a soulful, stellar guitar solo by Vincent Duhaime Perrault who is also credited with composing all of the group's pieces. La truffe incorporates a positively funky and enthralling electric bass solo in which very apparent talent is showcased. Throughout the record, drummer Eric Thibodeau, bassist Alex Lefaivre and keyboardist Paul Shrofel provide the perfect backing to each piece, moving the melodies along with captivating chords and a constant, catchy rhythm. For those wanting a great and much needed pick-me-up within these dreary and grey winter days, this album is ideal for you. Truly a newer band worth keeping an eye out for.