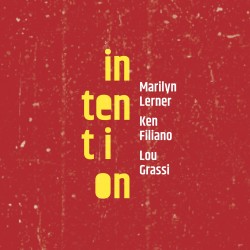 Intention
Marilyn Lerner; Ken Filiano; Lou Grassi
NotTwo MW995-2 (nottwo.com)
Marilyn Lerner is one of Canada's most creative pianists, from ventures into klezmer to the avant-garde playfulness of Queen Mab Trio with Lori Freedman and Ig Henneman. Her most intense and inventive project, though, may well be the longstanding and virtuosic trio with two veteran New York free jazz musicians, bassist Ken Filiano and drummer Lou Grassi. The group's first CD, Arms Wide Open, was recorded in a Brooklyn studio in 2008. The next two ‒ Live in Madrid (2012) and Live at Edgefest (2013) ‒ documented festival appearances. Intention comes from a 2018 New York concert with the trio achieving ever higher levels of empathetic creation.
Taking a conversational approach, there's a certain pointillist playfulness to the sound-oriented Plink Plunk, complete with hand drums, isolated piano string plucking and sudden bass glissandi; but even in this mode the group is a dynamic collective, suddenly mustering episodes of dense interactivity. Each musician might open a dialogue with a solo foray, a series of suggestions and motifs, as Grassi does in his multi-directional opening to No Farewell. Before long the group is embroiled in another collective composition, in this case a particularly pensive episode, a layering of distinct yet interactive parts, distinguished by bright piano trebles, rich arco bass and varied metal percussion.
While jazz piano trios once resolved into pianos with accompaniment, Lerner, Filiano and Grassi are full partners, the trio pressing dialogue into meteorological events, the tempestuous, the torrential and often the impending.