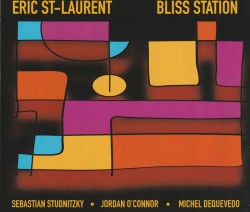 Bliss Station
Eric St-Laurent
Katzenmusik KM10 (ericst-laurent.com)
Toronto-based guitarist Eric St-Laurent's new album, Bliss Station, is a continuation and expansion of the work that he has done on past releases, including Dale and Ruby, both of which feature his longstanding trio of bassist Jordan O'Connor and percussionist Michel DeQuevedo. Both DeQuevedo and O'Connor join St-Laurent on Bliss Station, as does trumpeter and pianist Sebastian Studnitzky.
Though drums are more common in guitar trio/quartet settings, Bliss Station benefits from swapping out a drum kit for DeQuevedo's percussion (as on previous outings). Of the many effects that this exchange produces, the most prominent is that of intimacy: without cymbals, snare and bass drum splashed across the sonic spectrum, the acoustic nuances of each instrument become more clear, and small moments acquire greater weight. Another, more subtle effect, the rhythmic interplay between band members, comes to the fore. St-Laurent plays the guitar with deep metrical commitment, whether on melodies, supportive riffs, chords or solos. Bliss Station's title track provides a great example of this, as St-Laurent moves through melodic statements and a solo with a propulsive, unerring sense of momentum. The funky Mustard Arizona is no different, though it is also remarkable for Studnitzky's ability to make his trumpet sound nearly as breathy and understated as a flute.
The fun of Bliss Station is in the band's interactivity, as well as in the sense of immediacy, fun and rhythmic joy that the performances succeed in evoking.