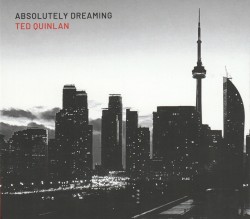 Absolutely Dreaming
Ted Quinlan w/Brian Dickinson; Kieran Overs; Ted Warren
Independent TQ-2019 (tedquinlan.com)
With the release of his new recording, guitarist and composer Ted Quinlan has again established himself as one of the most gifted, imaginative and technically skilled jazz guitarists around. For this very contemporary project, Quinlan has joined forces with three additional noted players – Brian Dickinson on piano; Kieran Overs on bass and Ted Warren on drums. Produced by Quinlan, the CD was also perfectly and authentically recorded by Steve Bellamy.
All nine tunes here were written and arranged by Quinlan, and seldom is one blessed to experience a jazz project of such luminosity. Things kick off with Cheticamp, which begins with a sense of urgent musical anticipation, tinged with sinuous guitar lines. These are perfectly complemented by the penultimate rhythm section work featuring an exquisite and percussive piano solo by Dickinson and inspired work by Overs and Warren. Of note is Not What it Seems – where sensual, languid guitar lines intertwine seamlessly with Overs' warm, fat bass sound. The group is like a single-celled organism – mutating, dancing and swinging through the unknown inclusive universe in total symmetry.
Also a delight is Building 8 – a jaunty, bop-ish track, with an almost 1950s West Coast jazz feel, and yet completely fresh – featuring a stunner of a bass solo from Overs as well as Quinlan's masterful playing throughout. Quinlan never overplays and every note has gravitas and meaning. X Marks the Spot is a true dynamic standout, displaying Quinlan's diverse sensibilities and Warren's exciting and combustive drumming. I imagine the reserved face of the late jazz guitar legend, Jim Hall, listening to this CD and smiling with his characteristic understated grin of approval and joy.