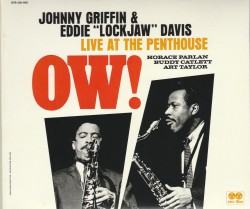 Ow! Live at the Penthouse
Johnny Griffin; Eddie "Lockjaw" Davis
Reel to Real RTR-CD-003 (cellarlive.com)
Perhaps inspired by legendary cutting contests between Lester Young and Coleman Hawkins, quintets featuring two tenor saxophones became a familiar jazz format in the 1950s. The most prominent paired Gene Ammons and Sonny Stitt, another Al Cohn and Sonny Stitt. Johnny Griffin, a veteran of the Thelonious Monk and Art Blakey groups, and Eddie "Lockjaw" Davis, a star of the Count Basie band, were relatively late to the genre, pairing up in 1960, but they represented the format's peak.
Accompanied by their New York rhythm section in these 1962 performances from Seattle's Penthouse, the Griffin/Davis combination combines individual brilliance with furious swing and shouting enthusiasm, a celebratory energy that sometimes testifies to their shared roots in rhythm and blues. Griffin was famous for the sheer speed of his lines, playing incandescent strings of precisely articulated arpeggios, while Davis had a vocalic genius, adding a different spin, emphasis or articulation to every note he played, sometimes sounding like he was swallowing notes.
The band adopts material from varied sources to their purposes, whether it's rooted in bop, swing or Kansas City blues. The title track, a Dizzy Gillespie composition taken at a medium swing tempo, highlights Davis and Griffin's contrasting approaches, while Lester Young's Tickle Toe is capped by the exuberant, high-speed inventiveness of their exchanges. Griffin's rich balladry on Duke Ellington's Sophisticated Lady may slow things down, but there's a special vitality heard throughout.