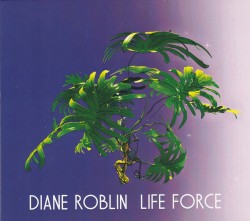 Life Force
Diane Roblin
Independent (dianeroblin.com)
Following her successful 2014 comeback, noted composer and multi-keyboardist Diane Roblin has once again created an eclectic, deeply personal and musically meaningful project that unabashedly celebrates life, and the inevitable, invigorating roller-coaster ride that is part of a well-lived human experience. Roblin's gifted collaborators here include CD producer and acoustic/electric bassist, George Koller; trumpet/EVI player Bruce Cassidy (who also contributes the exceptional horn arrangements); Kevin Turcotte on trumpet and flugelhorn, Jeff LaRochelle on tenor sax and bass clarinet and Ben Riley on drums.
Back on Track is the sassy opener, with Roblin laying it down on Fender Rhodes, deftly establishing the spine of the funk. Cassidy's EVI solo, followed by Turcotte's trumpet solo, propel things to a higher vibrational level, while Koller's gymnastic, supportive bass work and Riley's drums are the soulful glue that gently hold the expandable structure of the tune together. Another standout is Snowy Day (which reappears at the end of the CD). LaRochelle's bass clarinet is simply stunning and perfectly complements the introspective mood of the tune, as well as Roblin's skilled and intuitive acoustic piano work. All the while, Cassidy's horn arrangement weaves a silken web of harmonically complex ideas.
Another fine track is Suspend Yourself, where Roblin reminds us of her skill, not only as a pianist, but as a new music composer. The ensemble breaks into the piano intro with considerable pumpitude, morphing into a straight-ahead bop motif, spurred on by Cassidy's EVI. Of special note is the tender Ballad in 3-4, which displays the gentle, contemplative aspects of Roblin's musicality, gorgeously framed by Koller's bass solo and the Kenny Wheeler-ish horn parts.