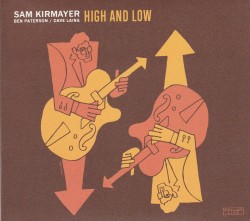 High and Low
Sam Kirmayer; Ben Paterson; Dave Laing
Cellar Live CLO 20118 (cellarlive.com)
During an era in which even the most straight-ahead jazz guitarist tends to have a sprawling array of pedals on stage, Sam Kirmayer is something of an anomaly. A traditionalist who tends to eschew effects in favour of the unmediated connection between instrument and amplifier, Kirmayer has found a voice for himself in the bluesy, hard bop style of guitarists like Grant Green, Wes Montgomery and Peter Bernstein. His newest album, High and Low, is his first to be released on Vancouver's Cellar Live Records; an apposite fit, for a label that has become Canada's leading outlet for hard bop. High and Low is an organ trio album, a rarity in and of itself in Canada. Drummer Dave Laing – who also played on Kirmayer's debut album – is a faculty member in McGill's jazz program, and is a stalwart of the Montreal scene. New York organist Ben Paterson, whose résumé includes work with Bobby Broom, Johnny O'Neal, and Peter Bernstein, rounds out the trio.
High and Low delivers amply on the premise that it sets out for itself: it is a swinging hard-hitting album, with crisp, tasteful playing from all involved. It is also, from the opening notes of the title track, a sonically beautiful experience, with all of the richness and depth that one hopes for in an organ trio recording. Kirmayer is in his element throughout High and Low, and Laing and Paterson make for a strong rhythmic team.