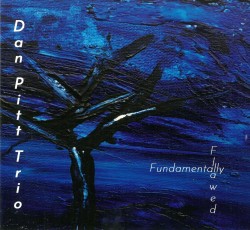 Fundamentally Flawed
Dan Pitt Trio
Independent (dan-pitt.com)
Over the past few years, guitarist Dan Pitt has been steadily establishing a presence for himself on the Toronto jazz scene. Fundamentally Flawed, the debut album for both Pitt and his eponymous trio, is a showcase for Pitt's playing and his unique compositional style; in both, one can find complementary elements of modern jazz and creative/improvised music, with a tendency to employ the former in service of the latter. This being the case, Pitt has done well in choosing his bandmates: bassist Alex Fournier, whose recently released album Triio is a stylistic cousin to Fundamentally Flawed, and drummer Nick Fraser. A generation removed from Pitt and Fournier, Fraser's artful drumming has been an increasingly common presence on the projects of younger Toronto musicians, and it is affecting to see him continue to contribute to a scene that he helped to establish in the late 90s and early 2000s.
Though Pitt plays electric guitar, Fundamentally Flawed is, at its core, an acoustic trio album, with an emphasis on the interactivity, excitement and close listening that seem uniquely possible in the trio format. From the raucous, heavily distorted moments of Overdewitt and Mark III to lush, slow sections in Balmoral and January Blues, Pitt's music has a transparent quality that allows the individual characteristics of each band member to be clearly heard at any given time, highlighting minute shifts in improvisational trajectory. A solid debut from a compelling band.