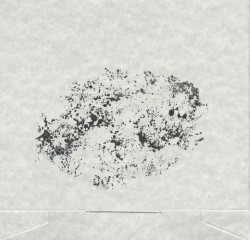 amplified clarinet & trumpet, guitars, nimb
Sound of the Mountain with Tetuzi Akiyama and Toshimaru Nakamura
Mystery & Wonder MW008 (mwrecs.com)
Sound of the Mountain is the duo of clarinetist Elizabeth Millar and trumpeter Craig Pedersen, significant younger figures in the Montreal musique actuelle community. Their work includes orchestral roles, free jazz and free improvisation. This CD, titled by its instrumentation, comes from a 2017 Tokyo encounter with guitarist Tetuzi Akiyama and Toshimaru Nakamura, who plays "nimb" or no-input mixing board, plugging its output into its input and creating an array of controlled feedback sounds.
There are two improvisations here, identified by the numbers 1 (clocking in at 18:39) and 2 (16:51) and that instrument list. The music proceeds with its own developing form, a collection of shifting sounds, sometimes spacious, like an isolated guitar passage, some gently picked reflective notes, some longitudinally scraped strings, these matched with a few electronic burbles. At other times there's a crumbling wall of sound: diverse feedback, a delicate clicking of clarinet keys, some lip-smacking kissing sounds from the trumpet.
Such literal description gives nothing of the actual experience of the music, which possesses an inner logic, sometimes jangling, sometimes a reverie in an industrial park. It's a communion of sounds, linked in an experiential continuum rather than through fixed harmonies and rhythms. Ten minutes into 2, there's a passage that sounds like a very wise child is gently plucking at a guitar for the first time, a trumpet plays muffled lines and there's a hive of electronic sound. It's a moment of perfect multi-dimensional calm.