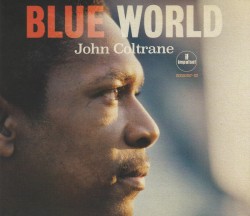 Blue World
John Coltrane
Impulse B0030157-02 (vervelabelgroup.com)
John Coltrane is among jazz history's most influential musicians, and any unheard work demands attention, witness last year's reception for Both Directions at Once, a lost session from 1963. Blue World isn't quite so startling: it's a June 1964 soundtrack session for Montreal filmmaker Gilles Groulx's Le chat dans le sac, a film that's been available online. However, the one complete take and three fragments on the soundtrack total less than 11 minutes, so there's plenty of unheard material on this 37-minute CD of the studio session.
Groulx's request list favoured Coltrane's work from 1957 to 1960: all but one composition originated then, most prior to Coltrane assembling the "classic quartet" heard here, with pianist McCoy Tyner, drummer Elvin Jones and bassist Jimmy Garrison. It's an opportunity to hear some of Coltrane's earlier material performed by his most celebrated band, at its peak, in Rudy Van Gelder's legendary studio.
What's here may be relatively brief, but it's very special: there are two takes of Coltrane's luminous Naima. A couple of tracks run past six minutes, but they're half the length of earlier versions. The title work, a blues recast from Coltrane's 1962 arrangement of Harold Arlen's Out of this World, has comparable power with added tension from Coltrane's evolving tone and focus. There's also a driving version of Traneing In, a piece dating from his earlier harmonic investigations. Often a relentless explorer, Coltrane was also a masterful editor: here he's emphasizing that side of his extraordinary craft.