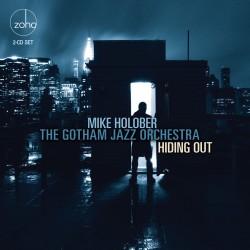 Hiding Out
Mike Holober's Gotham Jazz Orchestra
Zoho Music ZM 201906 (zohomusic.com)
With the release of his new double-CD project, well-respected and in-demand New York City-based jazz pianist, composer and band leader, Mike Holober has done the near impossible – assembled an A-list group (The Gotham City Orchestra) to perform 11 fresh, original, large ensemble jazz compositions in a way that displays each musician's gifts within the framework of ego-less, challenging arrangements. Holober is at a point in his musical maturity and creativity that this contemporary take on the traditional big band jazz format is all about the music itself.
Esteemed members of the GTO include many of Holober's longtime collaborators, all of whom have paid their metaphorical New York dues many times over… such as reed players Billy Drewes, Jon Gordon, Dave Pietro, Steve Kenyon and Adam Kolker; trumpeters Tony Kadleck and Marvin Stamm and guitarist Jay Azzolina. The two-CD collection (arranged in two Suites, entitled Flow and Hiding Out) is comprised of Holober's original compositions as well as a compelling rendition of Jobim's Caminhos Cruzados.
The first suite kicks off with Jumble, featuring some face-melting solo work from guitarist Jesse Lewis, and then segues into the ambitious four-movement work, Flow, which includes the evocative Tear of the Clouds, Opalescence, Interlude and the high-energy, bop-infused Harlem, featuring the always swinging Drewes on alto.
The second disc contains the five-movement, Hiding Out, beginning with Prelude, featuring a woodwind intro followed by the thrilling entrance of brass, followed by Compelled, Four Haiku and Interlude… ending with the skillfully crafted, dynamic, full-band opus It Was Just the Wind. This brilliant project closes with an inspired take on Jobim's classic, which was made even more stunning by the work of iconic trumpeter/flugelhornist, Stamm.