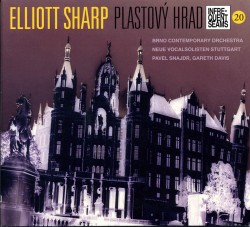 Plastový Hrad
Elliott Sharp
Infrequent Seams IS 20 (infrequntseams.com)
Aural essays in bass clarinet adaptation Plastový Hrad's three tracks composed by American Elliott Sharp challenge the player(s) in varied fashions. Commissioned by the Brno Contemporary Orchestra to celebrate the 100th anniversary of the Czech Republic, the opaque moody title track has Lukasz Daniel chiselling a place for the horn's distinctive harmonies among the polyphonic narrative propelled by the ensemble. Lyrical yet rhythmic, in contrast, Gareth Davis' bass clarinet on Turning Test is the sole foil to the Neue Vocalsolisten Stuttgart, whose six singers harmonize and hocket as they move through this contemporary art song. Based on a graphic score, rather than through-composed like the others, Oumuamua features extended and unexpected sonic techniques expressed by Sharp's own bass clarinet and programmed electronics.
Propelled full force, the episodic structure of Plastový Hrad allows for several dramatic moments as when bass clarinet trills flutter upwards to maintain the narrative among gathering motifs propelled by kettle-drum smashes and flaring horn-section harmonies. Eventually the caustic horizontal theme is maintained with speedy coloratura emphasis from Daniel. On Oumuamua, intonation that can sound like two separate clarinets is broken into shards or reconstructed, then amplified with signal-processed pumps before ending with straight-ahead twisting trills. As for Turing Test, lower case continuum from the clarinetist finally blends with the layered voices for a lyrical finale. Overall both the country and reed exploration are properly honoured musically here.