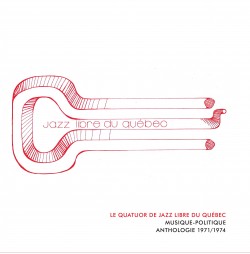 Musique-Politique: Anthologie 1971-1974
Le Quatuor de Jazz Libre du Québec
Tour de Bras TDBHIST0001 (tourdebras.com)
This has been a momentous year for the documentation of Quebec's entry into the world of free jazz. First came Eric Fillion's book Jazz Libre et la révolution québécoise : Musique-action, 1967-1975 (M Éditeur: 2019) and now this ambitious four-CD set to provide sonic evidence of the achievement of the founders of free jazz in the province, Le Quatuor de Jazz Libre du Québec. The CDs, drawn from the group's archives of performance tapes, are supplemented by a 24-page, LP-size volume that includes essays in French (including ones by Fillion and producer Éric Normand) and reproductions of manifestos, news stories and even a cover questionnaire from the group's social outreach program, all of it providing context for the most radical Canadian-born jazz movement in history.
The group existed from 1967 to 1975 with two constant members, tenor saxophonist Jean Préfontaine and trumpeter Yves Charbonneau. If jazz has rarely been political in Canada, Le Quatuor was insistently so, creating a distinct connection between the ferment in Quebec society and the ferment in their own music, initially inspired by American free jazz as played by Ornette Coleman and Albert Ayler. The music here is very much a soundtrack to the times, an intense element in the rise of Quebec nationalism that followed on the FLQ crisis and the War Measures Act, enacted in October 1970. The quartet's reach into the heart of Quebecois culture included the founding of an artist commune (Le Petite Québec Libre), a later performance space (L'Amorce) and public self-analysis of their work (interspersed here between the performances).
The music here runs from 1971 to 1974, arguably the group's strongest period despite shifting support. Jean Préfontaine, born in 1926, is the strongest presence here, a musician who found free jazz after a career in a military band. His extended opening solo on a September 1973 performance is a riveting example of all that free jazz saxophone could be: a radical soliloquy that's part jeremiad, part exhortation, part abstract interior monologue cut through with doubt and excitement at the coming day. Yves Charbonneau is a fine foil, a subtler provocateur, adding thoughtful solos and detailed support as the set documents the band's developing sense of a commanding freedom. The presence of American cellist Tristan Honsinger on the 1973 material, passing through en route to a brilliant career in European free improvisation, signals a broadening musical language and the achievement of the group's final period.
The set adds substantially to the history of jazz in Canada, casting new light on its most intense moment, as well as a significant contributory stream to Quebec's diverse concept of musique actuelle, perhaps the most vigorous scene in contemporary Canadian music.