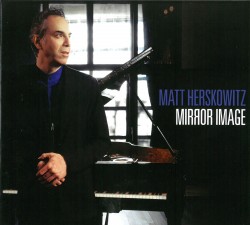 Mirror Image
Matt Herskowitz
Justin Time JUST 263-2 (justin-time.com)
To play jazz on the piano, a musician must – at some point – come to terms with the weight of the instrument's history. The modern drum kit started to come together in the 1920s; the electric guitar, which, unlike its classical forebears, would be played through an amplifier, primarily with a plectrum, would not be manufactured until the 1930s. But the piano – so central to the sound of mainstream jazz – predates the genre by over 200 years.
On the solo album Mirror Image, released on Montreal's Justin Time Records, the accomplished pianist Matt Herskowitz demonstrates his command of both the jazz and classical traditions through a mixture of original pieces, compositions by the likes of Ravel, Satie and Schubert, and a jazz standard. The fusion of jazz and classical has its own rich history; third stream music has enjoyed a degree of popularity since the 1960s. This synthesis is used to great effect by Herskowitz, not as a way to showcase two separate skill sets, but as a framework with which to display an intelligent, well-developed, honest approach to music making that honours the pianist's personal experiences on the instrument. Highlights include bluesy, gospel-tinged flourishes on Gottschalk's The Last Hope, the percussive title track Mirror Image, and My One And Only Love, which closes the album. Herskowitz's truest success, however, is the thread with which he so effectively and confidently connects the album's many elements into a sensible whole.