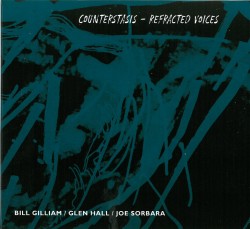 Counterstasis – Refracted Voices
Bill Gilliam; Glen Hall; Joe Sorbara
Independent MPBG-006 (gilliamhallsorbara.bandcamp.com)
Counterstasis – Refracted Voices is a new album of improvised music from the trio of Bill Gilliam (acoustic piano, preparations), Glen Hall (woodwinds, electroacoustics) and Joe Sorbara (drums, percussion), recorded at Number 9 Audio Group in Toronto. Gilliam, Hall and Sorbara are veteran improvisers, and bring a wealth of creative experience to their shared practice, which takes its influence from a variety of musical traditions. The heart of this project, as described in the liner notes, is to "counter stasis, to foster change, to create a music in which [the musicians'] individual voices can be bent by, refracted through the voices of their co-conspirators." To these exploratory and interactive ends, Hall uses an assortment of live effects, including the OMax AI improvising software and the CataRT synthesis program, both by the Paris-based Institute for Research and Coordination in Acoustics/Music (IRCAM).
Hall's electronic contributions range from subtle additions to the trio's acoustic instruments (as on the opening track, Sinuous Movements), to major structural components (as on Radio Chatter, which does indeed feature radio chatter, and Cave Ritual, the album's longest offering, in which eerie atmospheric sounds form the basis for the overall shape of the tune). Throughout the proceedings, Gilliam, Hall and Sorbara play with maturity, confidently committing themselves to the realization of a shared musical vision that privileges communication over individual athletics. The album offers many highlights, but is best heard in one listen, as the spontaneously composed event that it is.