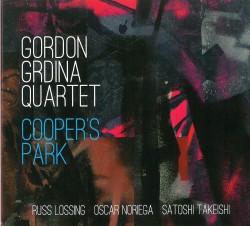 Cooper's Park
Gordon Grdina Quartet
Songlines SGL 1630-2 (songlines.com)
Vancouver guitarist Gordon Grdina has gradually emerged on a larger stage, convening bands with distinguished international figures in addition to his regional ensembles. For this Vancouver session, Grdina is joined by New Yorkers Oscar Noriega, on alto saxophone and clarinets, Russ Lossing on piano and keyboards, and Satoshi Takeishi on drums. Grdina first unveiled this quartet on the 2017 CD Inroads, presenting crisp versions of nine of his compositions. Here the emphasis has decidedly changed. There are just five tracks here, four of them together stretching to an hour and filled with both controlled evolutions and vigorous improvisation.
That focus on group interaction results in Grdina's strongest recording to date, whether he's emphasizing formal coherence, insistent intensity or both. The 18-minute title track sets a fluid standard for the program, generating episodes from lambent reverie to pensive conversation to pitch-bending wails. There's a special link between Grdina and Lossing everywhere here, blurring their identities on lyrical near-acoustic flights or matching distorted guitar with the harsh electric edges of Lossing's clavinet (a keyboard that served to launch some of Sun Ra's stellar travels). Noriega is an inspiring presence, generating rapid coiling lines at once raw and adroit on both alto saxophone and bass clarinet, while Takeishi's complex drumming can unite impetus and commentary.
Grdina has challenged himself consistently since his 2006 debut Think Like the Waves with Gary Peacock and Paul Motian. Here he takes another significant step forward.