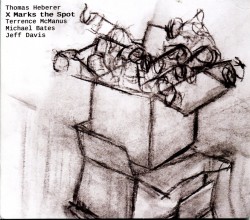 X Marks the Spot
Thomas Heberer
OutNow Recordings ONR 037 (outnowrecordings.com)
Concise and cosmopolitan, the eight selections here offer a slice of contemporary New York improvisation, composed by expatriate German trumpeter Thomas Heberer, decorated by the supple fills of guitarist Terrence McManus and the rhythmic dexterity of drummer Jeff Davis, both locals, and driven by the mostly sensed but rarely upfront power pulse of Canadian bassist Michael Bates. Heberer's arrangements follow this strategy, whether channelling acoustic romps (Remscheid Reggae) or sidling up to reductionism with chiming guitar flanges and shaded, valveless air from the trumpeter (The Ball is in Your Court).
Despite sequences that flirt with atonality, dissonant tendencies are kept in check, especially on pieces such as The Great Hill and Bon Ton that are introduced and subsequently driven by the echoing slaps and pops of Bates' nearly unwound strings. On The Great Hill, the bassist creates an ostinato that buoys Herberer's plunger growls and McManus' chromatic flanges. At the same time, Bates' pulse is powerful enough so that the trumpeter can switch to outputting fragile grace notes, then back to growls without upsetting the program. As for the loping Bon Ton, drum rumbles and string thumps keep it horizontal as Heberer's near-static air propelling and the guitarist's strums and frails evolve in double counterpoint.
Overall the spot which this group of e(X)cellent players marks is a sophisticated zone where unself-conscious modern improvising is welcome and thrives.