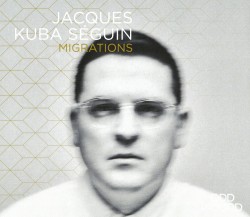 Migrations
Jacques Kuba Séguin
Odd Sound ODS-17 (jacqueskubaseguin.com)
Released in June on his own label, ODD SOUND Records, Migrations is the newest album from the Montreal-based trumpeter Jacques Kuba Séguin. A regular in the Montreal jazz and creative music community, Séguin tours regularly, including a 2016 stint in Poland, Lithuania, and Germany, and has worked as the host of the Symphonie en bleu radio show, for ICI Musique classique. In addition to Séguin, who is solely responsible for the album's compositions and arrangements, Migrations features pianist Jean-Michel Pilc, tenor saxophonist Yannick Rieu, vibraphonist Olivier Salazar, bassist Adrian Vedady and drummer Kevin Warren.
The medium-tempo Hymne starts things off, and gives Séguin plenty of room to exercise his warm, burnished sound; it also contains beautiful moments from Pilc, Salazar and Rieu. Pilc – who, since becoming a faculty member at McGill, is appearing on more and more Montreal-based projects – tends to always be excellent and his work on Migrations is no exception; his playing on Origine, the album's second track, is particularly satisfying. Première neige (You're Not Alone), one of Migrations' most introspective tunes, is beautiful, and Séguin takes the opportunity to showcase the expressive, lyrical side of his playing. I Remember Marie in April, a clear album highlight, begins with stellar playing from Warren, who negotiates the tune's syncopated shots with aplomb and keeps things interesting throughout the solos. Overall, Migrations is a thoroughly engaging album, with strong individual playing deployed in the service of a cohesive group spirit.