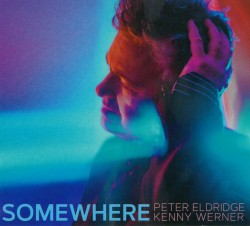 Somewhere
Peter Eldridge; Kenny Werner
Rosebud Music (petereldridge.com)
Consummate vocalist, composer and lyricist, Peter Eldridge has joined forces with arguably one of the finest jazz pianist/composers of his (or any other) generation, Kenny Werner, to co-produce a contemporary album of breathtaking beauty. The project boasts not only some fine original tunes, but also a sprinkling of some much loved popular standards – all rendered with fine rhythm section work by Werner on piano, Matt Aronoff on bass and Yoron Israel on drums. Eldridge's rich, nuanced vocals and sumptuous orchestral arrangements (skillfully arranged for The Fantastical String Orchestra by Werner and conductor/cellist Eugene Friesen) make this a formidable CD.
Things kick off with the Eddie Arnold hit, You Don't Know Me. Eldridge's silky baritone takes command of this gorgeous standard, which is lusciously wrapped in acoustic strings and supported by the supple spine of Werner's inspired piano work. Another outstanding selection is That Which Can't Be Explained, with music and lyrics by Eldridge. This sensitive ballad has a lovely, poetic lyric and a pleasingly complex melodic line. Eldridge effortlessly takes the listener along for the ride on a deep emotional journey… this is a hit song in search of a hit Broadway show!
Additionally, the Bernstein/Sondheim title track/medley is a major stunner, and begins with a haunting a cappella voice, followed by solo piano, which gently enfolds Eldridge throughout. A brilliant orchestral segue leads to the second part of the medley, A Time for Love, which features exquisite harp and string section work, and of course Johnny Mandel's incomparable melody.
Without question, the artistry of Eldridge and Werner make Somewhere one of the most exceptional recordings that I have had the privilege to experience this year.