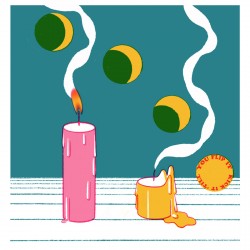 Kick It 'Till You Flip It
Eucalyptus
Lorna 10/ HAVN 054 (brodiewest.com)
Alto saxophonist/composer Brodie West makes music that's both exploratory and engaging, growing from varied experiences playing jazz and its transmutations in Toronto and further afield, including stints with Dutch drummer Han Bennink and Ethiopian saxophonist Getatchew Mekuria. West's groups typically emphasize rhythm (his eponymous quintet has two drummers), but his octet, Eucalyptus, takes it further. Drummers Nick Fraser, Evan Cartwright and Blake Howard feed data to West and trumpeter Nicole Rampersaud as they bounce around the multi-directional polyrhythms and ostinatos.
West's compositions can suggest African pop music, but they also have affinities with a broad swath of work, from Terry Riley to Ornette Coleman. Something Sparkly is perfectly dreamlike, its slow theme weaving through bright electric guitar and exotic overlapping rhythms. It suggests Sun Ra's stately early music, a resemblance heightened by Ryan Driver's trebly clavinet, a keyboard Sun Ra called a "solar sound instrument." West's solo seems suspended between melody and birdcall. The title track develops with the horns playing a short, taut figure, then gradually moving out of synch with one another amidst the various rhythmic paths at hand. The entire LP testifies to West's artful concision, but his compressed, expressionist solo here is a miracle of improvisational economy.
The final track, Triller, is another beautiful floating mystery, its minimalist components ultimately weaving a complex whole; it's enhanced by Alex Lukashevsky's bending guitar tones, until parts drop away and only electric bassist Mike Smith's pulsing ostinato remains.