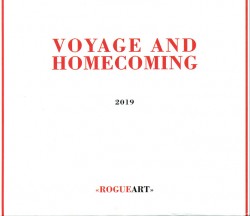 Coco Swirl
Ratchet Orchestra
Ambiances Magnetiques AM 248 (actuellecd.com)
From Nimmons 'N' Nine Plus Six to Vancouver's NOW Orchestra, despite the economics, Canadians have somehow produced highly creative big bands. Montreal's Ratchet Orchestra was a quintet in 1993; today its founder-composer-bassist-conductor Nic Caloia leads a 19-member ensemble with the breadth and force of Sun Ra's Arkestra or a Charles Mingus big band. Like them, it invokes Duke Ellington's legacy of rich textures and intense turbulence while emphasizing distinctive solo voices. It has a traditional big band's power, with five reeds and five brass, but expands its palette with violin, two violas and the eerie profundity of bass reeds and tuba.
Caloia's compositions range from the traditionally modernist to the avant-garde, with a band composed of individuals who define Montreal's free-jazz community. The opening Tub features the brilliant alto saxophonist Yves Charuest, as abstractly evasive as Lee Konitz. The rousing Raise Static Backstage, fuelled by Isaiah Ciccarelli's rampaging drum solo, might appeal to any fan of Dizzy Gillespie's legendary bebop big band, while Blood, an atmospheric setting for Sam Shalabi's distorted guitar, touches on the later works of Gil Evans.
Caloia's most personal and ambitious work is saved for the conclusion, the six-part Before Is After, a weave of compound rhythms and evasive fragments knit together with unlikely matchings of instruments and forceful soloists, including violinist Joshua Zubot and bass saxophonist Jason Sharp. Ratchet Orchestra is both a distinctive Montreal institution and national standard bearer for a creative tradition