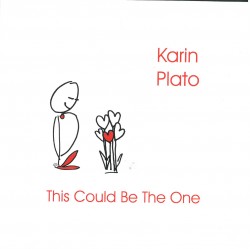 This Could Be The One
Karin Plato
Independent KP0418 (karinplato.com)
Released worldwide on April 12 through Stikjazz Music, This Could Be The One is Vancouver-based vocalist Karin Plato's eighth studio album, and the culmination of ten years of work with her quintet, which includes herself, clarinetist James Danderfer, pianist Chris Gestrin, bassist Laurence Mollerup and drummer Joe Poole. This Could Be The One also features three special guests: blues musician Jim Byrnes, singer Rebecca Shoichet and trombonist Rod Murray. Recorded live off the floor by Sheldon Zaharko in Vancouver at Warehouse Studio, the album has a warm, inviting vibe, emulating, to a certain degree, the experience of hearing acoustic jazz from a good seat in a well-appointed venue.
This Could Be The One is largely made up of Plato's original material, with a few re-arranged exceptions: the Lennon/McCartney-penned I've Just Seen A Face, Hank Williams' I'm So Lonesome I Could Cry, and the ubiquitous Heart And Soul. Byrnes joins Plato on What Came Before, Plato's loping, 3/4 ode to empathy; though they represent different vocal traditions, the two singers' voices blend well, with Byrnes' big, woolly voice complementing Plato's controlled clarity. Shoichet and Plato sing together on Sorrow, another Plato original, a bittersweet, straight-eighths song that serves as the album's final entry.
With an overall mood that tends toward the calm and communicative, even during its more bombastic moments, This Could Be The One is a worthy addition to the canon of modern Canadian vocal jazz.