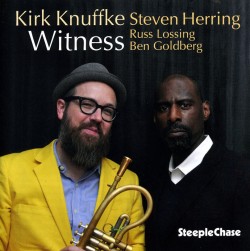 Witness
Kirk Knuffke; Steven Herring
Steeplechase SCCD 31859 (steeplechase.dk)
Shredding conventions, jazz cornetist Kirk Knuffke teams up with classically trained baritone Steven Herring for off-the-wall performances that range from operatic classics and spirituals, to poetry set to music, and standards. Raising the idiosyncratic interpretation stakes still higher, other accompaniment is from the patterning of Russ Lossing's piano and the gruff oom pah pah of Ben Goldberg's contra alto clarinet. Remarkably most of the transitions work.
Unsurprisingly Herring aces the declarative nuances of Iago's Credo and Questo Amor with studied formalism. But his creativity isn't solipsistic. Goldberg's stentorian puffs and Knuffke's capillary peeps match operatic chortles on the former. Meanwhile the amorous exposition on the latter owes as much to plunger brass notes and seductive piano chords as to ebullient vocalizing. Witness, A City Called Heaven and other traditional religious songs fare as well. However, mellow horn parts and broad melodic sweeps from the pianist on Witness, as well as carefully modulated vamps from all the instrumentalists, produce subtle swing on both tunes, leaving the emotion to Herring. The baritone's parlando serves him appropriately when Knuffke's musical setting of Carl Sandburg's Subway is transformed into song. But the recitation is mated with the cornetist's passionate grace notes to reach its goal. In fact, the only miscue is Sun Ra's The Satellites are Spinning. While clarinet snarls and cornet blats enliven it, the vocalist's theatrical declarations miss its sardonic and humorous aspects. Witness works wonderfully as long as the musical alterations remain down to earth.