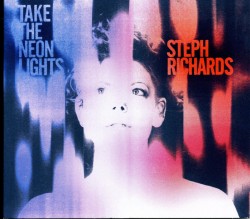 Take the Neon Lights
Steph Richards
Birdwatcher Records 008 (birdwatcherrecords.com)
Accomplished quartet music played and composed by Canadian trumpeter/flugelhornist Steph Richards, who already excels in solo playing, Take the Neon Lights' eight selections are melodic without neglecting timbral analysis, and moving without being shackled to a beat. Ably assisted by pianist James Carney, bassist Sam Minaie and drummer Andrew Munsey, New York-based Richards still experiments with singular diversions like mouthpiece oscillations, rapid capillary dot-dashes and evacuated plunger tones. But these dissonant rejoinders often now vibrate within passionate tone poems.
Internal body tube metal may be audible on Transitory (Gleams) for instance, but after subtle piano chords meet supple brass-tone outlines the result is a mellow chromatic showpiece. Featuring Carney's keyboard shuffles and inner piano string plucks, Skull of Theatres extends the pianist's mid-range voicing to meet Richards' high-speed rubato trills plus plunger growls, so that together the two settle into unpretentious swing in the tune's second sequence, allowing the lines to harden with more emphasis on bass and drums.
Richards' experimental skills are highlighted on Brooklyn Machine, where she manages double counterpoint from both her horns – one with brassy thrusts and the other with crafty smears – in such a way that they seem to accompanying one another. Still, the well-constructed Stalked by Tall Buildings is the apex of the brass player's art. The warm melody line is stretched, as elevated trumpet tones squeeze beauty from repeated tongue twists while dramatic piano flourishes and truculent percussion pops maintain the melody's ingenious fluidity.