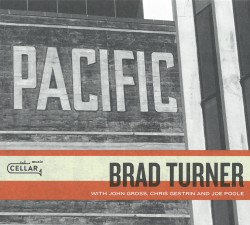 Pacific
Brad Turner
Cellar Music CM090418 (cellarlive.com)
Released on Vancouver's Cellar Music label, Pacific is a new album from trumpeter Brad Turner. Turner – who is also an accomplished pianist, drummer and, as attested to by Pacific's liner notes, mixing engineer – is joined by organist/keyboardist Chris Gestrin, drummer Joe Poole and the American tenor saxophonist John Gross, who appears on three of the album's nine tracks, all of which are composed by Turner. Although he may not be a household name to all listeners, Gross has had a long and illustrious career in jazz, playing, since the 1960s, with artists such as Lionel Hampton, Warne Marsh and Toshiko Akiyoshi.
Pacific begins with Not A Robot, a bouncy, medium-up song that showcases the group's assured rhythmic sensibilities; it also eschews any chordal comping, with Gestrin sticking to synth bass throughout, including in a dynamic trading section with Poole in the tune's back half. Pacific's title track is a satisfying, hard-swinging affair that gives plenty of room to all four musicians to stretch out in their respective solos. Gross' solo, which begins as a duet with Poole, is a highlight, as is Poole's own brief solo over the vamp that precedes the melody.
In Pacific's liner notes, Phil Dwyer writes that the album is, perhaps, evocative of the Larry Young album Unity, and the comparison is apt. But the album is made special by the band's commitment to its constituent voices, to Turner's compositions, and to honouring the unique musical moments found throughout this compelling album.