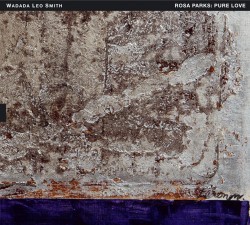 Rosa Parks: Pure Love
Wadada Leo Smith
Tum CD 057 (tumrecords.com)
Since 2012, trumpeter Wadada Leo Smith has created several powerfully elegiac suites: Ten Freedom Summers, Occupy the World, The Great Lakes and America's National Parks. With Rosa Parks: Pure Love, he returns explicitly to the theme of the first, the African-American civil rights movement. Rosa Parks is an oratorio, with music and songs by Smith, employing his distinctive compositional method that focuses on contrasting durations and textures. Smith's heterodox ensemble includes a string quartet, a trumpet quartet, drums, electronics, pipa and three singers.
From the dissonant fanfare, Smith has compounded his own idiom, at once intimate and multi-dimensional, in which strongly lyrical passages alternate with moody, atonal strings and sometimes harsh, flaring brass. Strong individual voices emerge out of the fissures opening in the collective sound: violinist Mona Tian, cellist Ashley Walters, drummer Pheeroan akLaff and Smith himself, soloing only in the penultimate movement. Smith has matched each song's character, as well as range, to each singer's voice: Karen Parks' touch of gospel; Carmina Escobar's hard-edged precision; and Min Xiao-Fen's soaring command of microtones. Each brings a special presence to Smith's multicultural palette.
Embedded in the oratorio are excerpts of early recordings by Smith and close associates Anthony Braxton, Leroy Jenkins and Steve McCall, musicians who first played free music together 50 years ago, and who are, by extension, partners in Smith's ongoing commemorations of the necessary struggles for freedom, reinforced in his concluding quotation from Martin Luther King.