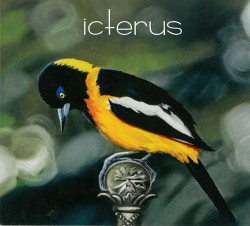 Icterus
Stefan Hegerat
Independent (stefanhegerat.com)
The debut album from drummer/bandleader Stefan Hegerat, Icterus, was inspired in part by a trip to Germany, from which his mother's family emigrated following World War I. The resulting collection of songs – all of which were composed and arranged by Hegerat – are connected by shared themes of "existentialism and belonging." Joining Hegerat is Robert Grieve on electric guitar, Patrick O'Reilly, also on electric guitar and Mark Godfrey on electric bass.
Icterus, as the instrumentation may suggest, takes considerable influence from amplified electric music, and, though it is replete with improvisation, the prevailing stylistic tone is more rock than jazz. Schloss, the opening track, begins with a tightly executed staccato melody, played by both guitars and bass before the time dissolves into a section of group improvisation that showcases Grieve and O'Reilly's complementary instrumental voices. Odd One Out, which showcases the group's ability to explore wide dynamic ranges, begins with an ethereal guitar melody that grows patiently as it's joined by the second guitar; when the rhythm section enters, the contrast between the rock-solid bass/drum parts and the spacey guitar parts neatly encapsulates the charm of Icterus. Raccoons, another highlight, builds slowly, eventually settling into one of the album's most compelling sections, both for its deep groove and for the beautifully contrasting guitar tones used by Grieve and O'Reilly.
A worthwhile listen for fans of jazz, progressive rock and improvised music, Icterus is a mature and self-assured debut from a talented drummer with a clear compositional vision.