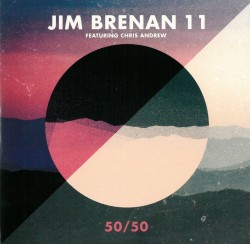 50/50
Jim Brenan 11
Death Defying Records n/a (deathdefyingrecords.com)
Saxophonist Jim Brenan has been a major force on the jazz scene for a number of years, performing in Canada and around the world both as a sideperson and with his own projects. 50/50, his most recent album, was released in February through the Canadian label Death Defying Records, and features pianist/keyboardist Chris Andrew, who joins Brenan and nine of Alberta's top jazz musicians to form an 11-piece ensemble. The instrumentation – rhythm section and horns – works in Brenan's favour, as it allows him to showcase his considerable writing and arranging skills, as well as his prowess as a soloist. While the band's composition might bring to mind the swinging music of similarly sized Canadian ensembles, the overall vibe is driving, funky and distinctly electric, with touches of Michael Brecker's large ensemble writing and late Miles Davis fused with Brenan's unique artistic vision.
50/50 starts with Tigers Milk, a multifaceted song that begins with Brenan trading beautiful, melodic playing with the horn section's lush chords; after a patient first half, the song segues into a pulsating, 16th-note-heavy second section, with excellent solos from both Brenan and Andrew. Fant-O-Max is one of 50/50's funkiest and most exploratory songs, with tight horn melodies deftly played over the deep groove set up by drummer Jamie Cooper and bassist Rubim De Toledo, with a fiery soprano solo and a searching keyboard performance from Andrew. Ozark Mountain Cougar Fightin' serves as an apt final track: at once virtuosic, funky and humorous, it neatly encapsulates Brenan's project in 50/50.