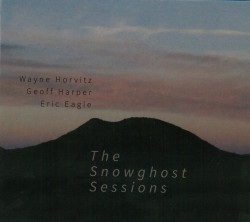 The Snowghost Sessions
Wayne Horvitz; Geoff Harper; Eric Eagle
Songlines SGL1627-2 (songlines.com)
Pianist/composer/producer Wayne Horvitz has been a prominent leader of the American avant-garde since his emergence in the 1980s in New York. In the ensuing years, he has been an active performer, has produced albums for artists such as the World Saxophone Quartet and Bill Frisell, and has had compositions commissioned by Kronos Quartet, the Brooklyn Academy of Music and many others. The Snowghost Sessions, released near the end of 2018 on Vancouver's Songlines record label, is the result of a weeklong residency undertaken by Horvitz, upright bassist Geoff Harper, and drummer Eric Eagle at SnowGhost Studios in Whitefish, Montana in the spring of 2015.
The Snowghost Sessions marks Horvitz's first trio record in a conventional keys/bass/drums format, and the album starts with The Pauls, a pensive, eerie piece that sets the tone for the rest of the recording. Throughout Snowghost, Horvitz uses keyboards, live processing and triggered samples to expand the traditional sonic range of the acoustic piano trio. In some cases – such as the organ parts on Northampton – these electric additions work subtly, providing additional texture behind the grand piano. At other times, as on The Trees, the piano plays more of a supporting role to processed sounds; still further across the spectrum, on IMB, distorted, filtered keyboards rage over aggressive up-tempo swing. Through it all, Horvitz, Harper and Eagle are open and generous with one another, and Snowghost manages to be exploratory without ever meandering. Highly recommended.