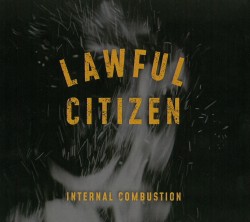 Internal Combustion
Lawful Citizen
Independent (evanshay.com)
Internal Combustion, released in November 2018, is the debut album from the Montreal-based band Lawful Citizen, a quartet composed of tenor saxophonist Evan Shay, guitarist Aime Duquet, electric bassist Antoine Pelegrin, and drummer Kyle Hutchins. Recorded at Montreal's Mechanicland Studios, Internal Combustion is the follow-up to Lawful Citizen's eponymous 2017 EP, and takes its inspiration from "the grit, brutality and rawness" contained in the "history of the internal combustion engine." Needless to say, Internal Combustion is not a timid album. Which is not to suggest, of course, that it lacks in subtlety; over the course of the album's nine songs, there are plenty of quiet, introspective moments, particularly at various points throughout the four-part Internal Combustion Suite. But, as is natural for a young group (they formed a few years ago at McGill), the overall mood, as the title suggests, is bold, dynamic and fiery.
Following The Day After – a lovely, short introductory piece, with Shay's saxophone overdubbed to create a choral effect – Internal Combustion's first ensemble song is February 2nd, a driving straight-eighths number that builds to a compelling climax in the saxophone solo. Shatter begins with a great drum groove from Hutchins, then morphs into one of the album's heaviest tracks, with Duquet's fuzzed-out guitar dominating the proceedings. The aforementioned four-part suite alone is worth the price of admission; nowhere on the album is Lawful Citizen's penchant for extreme dynamic range deployed more surprisingly and more effectively.