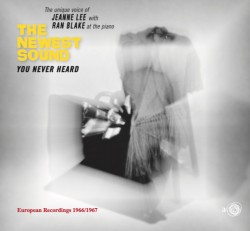 The Newest Sound You Never Heard
Ran Blake; Jeanne Lee
a-side records 0005 (a-siderecords.com)
When singer Jeanne Lee and pianist Ran Blake released their 1961 debut, The Newest Sound Around, it introduced a new interpretive freedom to a broad range of songs. The duo extended traditional roles to a genuine improvised duet between voice and instrument, from Lee's frequent a cappella rubatos and chromatic fantasies to Blake's playful keyboard explosions, all of it held together by near-telepathic attention to one another's sense of inspired detail. This two-CD set combines unreleased studio and concert performances recorded in Belgium in 1966 and 1967.
One can simply celebrate the breadth of their repertoire, extending from Ellington, Monk (his Misterioso here set to Gertrude Stein's words) and Harold Arlen to Ornette Coleman, Ray Charles, Lennon-McCartney and Bob Dylan; however, it's their unique handling of the material that distinguishes the results, stringing songs together in vast medleys, then trusting to the individual song to hold the performance together.
In part they play on the familiarity of their material, Lee's rich, nuanced delivery of a single phrase conveying an entire song's depth. The live disc initially reminds that Out of this World started with Arlen and Johnny Mercer, even if the greatest debt here is to John Coltrane. It then segues to a fragmented Mr. Tambourine Man in a chain that includes an abstracted pointillist Blake solo and Lee's roots-drenched versions of He's Got the Whole World in his Hands and Billie's Blues. This is rare and fine material.