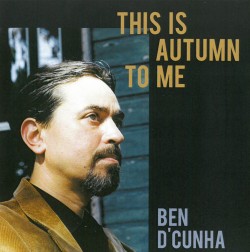 This Is Autumn to Me
Ben D'Cunha
Independent (bendcunha.com)
On his debut recording, compelling pianist, vocalist and composer, Ben D'Cunha culled the selection of tunes here from 27 original songs captured in a single four-hour recording session this past summer. D'Cunha's voice is rich and lustrous, and his jazz sensibility and phrasing are superb. As a pianist, he is in the pocket, connecting on a psychic level with the superb musicians also featured on this fine recording – Bob Brough on tenor saxophone, Jordan O'Connor on acoustic bass and Mike McClelland on drums.
The CD gets going with Earworm – an up-tempo, beboppish salute to the great vocalese progenitors, such as Lambert, Hendricks and Ross. D'Cunha bops and scats joyously throughout this delightful tune, punctuated by the trading of fours with Brough, O'Connor and McClelland. Of special note is the title track, a lilting bossa with a charming lyric and thoroughly gorgeous vocal. D'Cunha seems to channel the late, great, Kenny Rankin here with his pitch-pure and vibrato-controlled vocal sound. Also of note is Where Are You Now – a touching ballad of a past love, loss and reflection. The pristine canvas of piano, bass and drums is the perfect setting for this deeply moving piece.
The ten tasty tracks continue with Sweet Honey Bee (Won't You Walk With Me) – a bluesy, funky tune featuring the soulful tones of Brough on tenor; and also the brilliantly lyricized, You Expletive You – a contemplative ballad about toxic love. O'Connor sets the sultry tone with the wonderful voice/bass duet that kicks off this boppish ballad, and Brough's languid solo is masterful, as is O'Connor's.