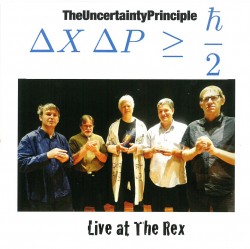 Live at The Rex
The Uncertainty Principle
Independent (andrewboniwell.com)
With the release of pianist and composer Andrew Boniwell's second CD with his stellar ensemble, The Uncertainty Principle, he has once again established himself as one of the most creative, non-Euclidian, improvisational jazz musicians on the scene today. For this live recording (expertly engineered by Neil MacIntosh at Toronto's Rex Hotel and Jazz and Blues Bar), he has once again coalesced the considerable talents of Richard Underhill on alto saxophone, Kevin Turcotte on trumpet, Artie Roth on bass and Mike McClelland on drums. Boniwell serves as producer here, and has written all but one of the compositions. He is also fluent in what is possibly the only universal language – mathematics – and although the sophisticated quantum concepts that are integral to his music may not be readily understood, the exciting and unpredictable aspects of it certainly communicate the plasticity of space/time, as well as the thrilling idea of participating in a perfect, unexpected and unplanned moment of creation.
Boniwell's opening salvo, Getting Higgy With It, Part #1 is a dream-like piano and percussion exploration which segues into the evocative Sleeping Giant, which features superb work from Underhill and McClelland. Another standout is Probability Wave #1 / HUP Poem, in which a superb bass solo and profound trumpet work lead the ensemble into a free flight of beauty and majesty punctuated by a stirring, hip, thought-provoking spoken word sequence by Boniwell. Winding up the CD are two exceptional tracks, Suite 60, where Underhill's alto and Turcotte's muted trumpet cling together like particles attracting, and Monk's Well, You Needn't, re-imagined with Latin underpinnings. Both are triumphs, as is the entire recording.