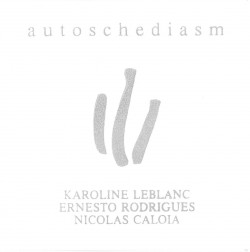 Autoschediasm
Karoline Leblanc; Ernesto Rodrigues; Nicolas Caloia
Atrito-Afeito 010 (atrito-afeito.com)
Autoschediasm (the term indicates something improvised, offhand or casual) presents a three-segment collective improvisation created by Montreal-based pianist Karoline Leblanc and bassist Nicolas Caloia and Portuguese violist Ernesto Rodrigues. All are accomplished improvisers, but each brings different threads: Leblanc's background stresses the classical avant-garde; Caloia's career emphasizes free jazz; Rodrigues, who leads several distinct improvising orchestras in Lisbon, has championed free improvisation for over 30 years, appearing on scores of CDs.
While the title suggests something casual, the music sounds appropriate to its Conservatoire de Musique de Montréal setting, the trio bringing a high modernist discipline and precision to the work. The opening movement flows with an energy that is dense and light. Sparked initially by LeBlanc's imaginative keyboard flights, in its later stages it settles into a churning rhythmic pattern that ignites Rodrigues' radical virtuosity, resulting in a flurry of microtonal lines that sometimes create their own counterpart. Offhand? Casual? The only thing that distinguishes it from composed music is the challenge of writing it down.
The second movement takes a contrasting approach, developing little sounds, arising discreetly, sometimes pointillist, at times muffled, at others percussive, a gently humming underbrush alive with detail. The final segment moves from delicate sonic events to a turbulent, vibrant world that recalls the opening, a formal motion that exaggerates a pattern evident since the early classical era. It's an act of "autoschediasm" rich in taut attention to nuance and form.