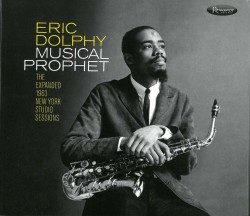 Eric Dolphy – Musical Prophet
Eric Dolphy
Resonance Records HCD-2035 (resonancerecords.org)
When Eric Dolphy died in a diabetic coma in 1964 at 36, he represented a special loss to jazz: a master of three distinct woodwinds (alto saxophone, bass clarinet and flute) whose exalted technical acumen and creative intensity contributed immeasurably to great recordings by John Coltrane, Ornette Coleman, Charles Mingus, George Russell and Oliver Nelson, among many others.
Musical Prophet is a 3CD set that expands the 1963 sessions that produced the LPs Conversations and Iron Man. Ranging from unaccompanied saxophone solos (Love Me is an expressionist masterpiece heard here in three versions) to a tentet, from jazz standards like Fats Waller's Jitterbug Waltz (on flute) to Dolphy's own dense, swarming Burning Spear, it's the finest portrait of the breadth of Dolphy's genius available. There are no finer examples of the "third stream" impulse than Dolphy's duets with bassist Richard Davis, abstract weavings that press Ellington's Come Sunday and the standard Alone Together into classics of improvised chamber music. On Music Matador, his bass clarinet roars with celebratory abandon.
Dolphy's breadth is as apparent in his range of collaborators, from bassoonist Garvin Bushell, who recorded with Mamie Smith in 1922, to 18-year-old trumpeter Woody Shaw, here making his recording debut. Along with the expansive and illuminating alternate takes, the set includes a remarkable bonus, A Personal Statement, with an extended musical dialogue that includes pianist Bob James (yes, that Bob James) and countertenor David Schwartz.