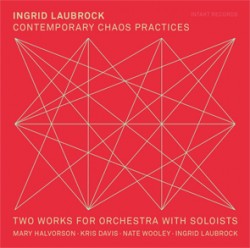 Contemporary Chaos Practices
Ingrid Laubrock
Intakt 314 (intaktrec.ch)
While third stream (the merger of jazz and classical music) is rarely heard of these days, it's far more developed than in its 1950s heyday. Saxophonist/composer Ingrid Laubrock here presents two pieces integrating written and improvised passages for a 34-piece orchestra and four featured soloists: Laubrock herself, guitarist Mary Halvorson, trumpeter Nate Wooley and pianist Kris Davis, among the most distinguished international improvisers of a generation now in its late-30s and 40s. The orchestra of New York freelancers negotiates the complex scores – Eric Wubbels conducts the written passages, Taylor Ho Bynum (like most of the soloists a close associate of Anthony Braxton) conducts the improvised – with a necessary combination of precision, energy and vision.
Inspired by the models and methods of Ligeti, Xenakis and Braxton, Laubrock develops new synergies with her mixed palette. The first two movements of the title work erupt with the overlapping energies of soloists (most notably Halvorson's very electronic guitar) and ensemble, while the third and fourth expand the breadth of the orchestral dimension. The single-movement Vogelfrei (Outlaw) adds eight voices and mixes light and sombre elements as it develops a dialogue between notated and improvised orchestral passages, at times creating an almost concerto-like setting for Davis' prominent piano.
Along with other recent works like Christopher Fox's Topophony (with John Butcher and Axel Dörner) and Roscoe Mitchell's Ride the Wind (with the Montreal-Toronto Art Orchestra), this represents a significant new development in the integration of scored and improvised music.