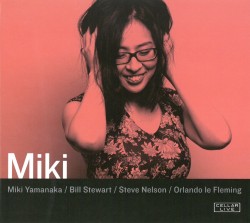 Miki
Miki Yamanaka; Bill Stewart; Steve Nelson; Orlando le Fleming
Cellar Live CL020718 (cellarlive.com)
Miki is the debut recording from the Kobe-born, New York-based pianist Miki Yamanaka. Recorded in New York and released on Vancouver's Cellar Live Records, Miki features eight originals – all written by Yamanaka, most with food-related titles – and two covers, For All We Know and Monk's Dream. Joining Yamanaka are drummer Bill Stewart, vibraphonist Steve Nelson, and bassist Orlando le Fleming, all three of whom are veterans of the New York jazz scene, both as bandleaders and sidepeople.
Miki begins with Mr. Pancake, a swinging, medium-up song, with a concise, intelligent bass solo, playful trading between Yamanaka and Nelson, and a strong drum solo over a vamp that follows the final statement of the melody. Monk's Dream starts with an evocative, tastefully Monk-ish solo piano section before the band enters with an arrangement that juxtaposes sections of 3/4 with the song's typical 4/4 feel. Stuffed Cabbage, performed in trio format with Stewart and le Fleming, is a groovy, straight-eighths composition that gives plenty of room to all involved to stretch out, and A Fake Hero is anchored by tight melodic playing from Yamanaka and Nelson over propulsive rhythm section shots. For All We Know, played as a ballad and arranged as a duet with Nelson, is treated with sensitive, communicative maturity, and stands out as one of the album's highlights. Overall, Miki is a success, both on the merits of Yamanaka's playing and on the compelling group dynamic that she has cultivated.