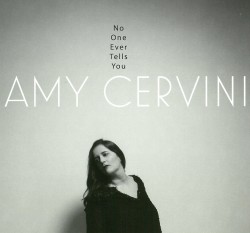 No One Ever Tells You
Amy Cervini
Anzic Records ANZ-0062 (amycervini.com)
No One Ever Tells You, released this summer on New York's Anzic Records, is Amy Cervini's fifth solo album, and marks the singer's continuing interest in exploring the connections between jazz and other kinds of American roots music. Where her previous release – 2014's Jazz Country, also on Anzic Records – featured intelligently arranged, acoustic guitar-driven versions of country songs from artists such as Hank Williams and Carrie Underwood, the focus of No One Ever Tells You is on the link between jazz and rock-inflected blues, with a decidedly more electric feel than its predecessor. While this new album is as much Susan Tedeschi as it is Blossom Dearie, Cervini maintains a distinct small-ensemble vibe throughout, with all of the nuance and communicative interplay that one would expect from Cervini's seasoned band (Jesse Lewis, guitar, Michael Cabe, piano, Matt Aronoff, bass, Jared Schonig, drums, with special guest organist Gary Versace on four tracks).
I Don't Know, the album's opener (and the sole Cervini original), is a groovy, smouldering 12/8 blues, with strong solos from Versace and Lewis, and aptly establishes the mood for the nine tracks to come. Please Be Kind and You Know Who! hew closer to the jazz end of the blues-jazz spectrum, and Bye-Bye Country Boy – something of a feature for Lewis – is a fun highlight. Also a highlight: the album's penultimate track, a beautiful rendition of One For My Baby, which Cervini performs in duet with Versace.